Back to News
United States Gypsum Co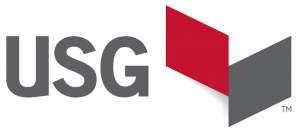 USG is a leading manufacturer of building products and innovative solutions. USG has led the manufacturing industry with innovations and products that set new standards for design, productivity, and performance for customers all over the world. After a comprehensive audit of their southeast Iowa facility, our team discovered many deficiencies in the light quality, fixture quantity, and system wiring. With much of the existing system over 50 years old, it was becoming increasingly expensive to operate and maintain the inefficient and obsolete technology.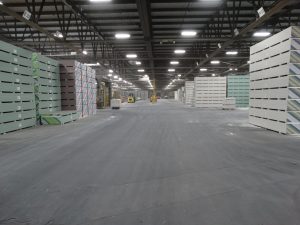 After meeting with key decision makers, our design team engineered an effective LED lighting solution that met all the priorities and goals USG needed for safe, efficient, and profitable production. To reduce maintenance and associated costs, long life LED products were installed in offices, production areas, and high abuse areas where Class 2 Division 2 classified fixtures were required. Other fixtures were retrofitted to keep overall project cost down, while still providing the benefits of new fixtures. To provide a more comfortable work environment, overall color temperature was specified at 5,000K, which is a neutral white color similar to daylight on a clear day. A human centric lighting system benefits all working shifts, giving them consistent lighting with improved visual clarity.
To optimize energy savings and further extend fixture life, occupancy sensors were installed in storage rooms, warehouses, offices, restrooms and other areas where they were found to be safe and fiscally responsible to the projects financial case. Automatically turning lights on/off is an easy, worry free method of reducing power consumption – saving you money on your electric bill!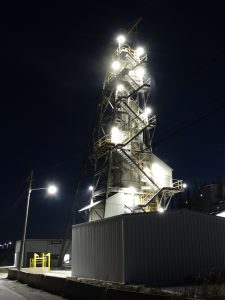 To complete the comprehensive upgrade, outdoor fixtures were replaced with new LED fixtures. Upgrading from the HID fixtures made a big difference not only in annual savings but also nighttime visibility. LED fixtures outperform traditional fixtures, helping eliminate dark spots and shadows that are common with HID technology. And with higher CRI, LED fixtures illuminate areas more clearly with bright, white light.
After our comprehensive lighting upgrade, USG now benefits from fixed overhead cost savings. LED solutions has lowered their monthly electric bill, reduced maintenance costs, and consolidated their lighting inventory. Creating sustainable, lifelong savings while improving safety and comfort is something USG will benefit from year after year.