The Q-Dim
Precise. Programmable. User Friendly.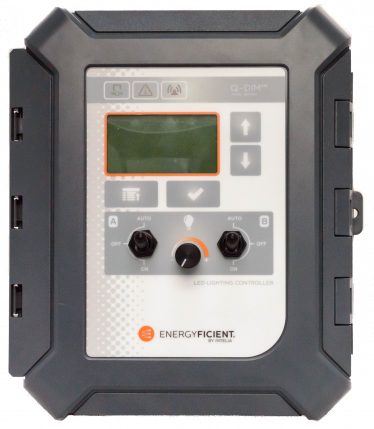 The Q-Dim
A precise and easy management of your poultry house lighting.
Designed with precision, the Q-Dim lets you control and adjust the light duration and intensity, from 0% to 100%, over your bird's life cycle. The Q-Dim's interface is easy to use with user friendly menus that allows you to program your lighting according to your animals growth, set up stimuli cycles, and manage up to two independent light groups.
Flicker free
Compatible with a wide range of LED lamps
Simulated sunrise and sunset
Alarm contact in case of power failure
Set up different cycles and manage two independent light groups
Battery backup time clock keeps time in case of power failure
Display of current time, date, light intensity, and period
Smooth transitions of light intensity
Product Information & Part Numbers
Dimensions
10.5" height
8.7" width
5.5" depth
Inputs
Analog inputs: 4-20mA or 0-5VDC
Digital outputs: Pulse width > 10 ms
Q-Series Products
Electrical
Warranty
Part Numbers