Q-Box
Installation just got a whole lot simpler and faster with Q-Box—a durable junction box that is UL Certified for wet locations. FicientLock technology™ allows you to twist and lock the cover to make it watertight. An optional embedded center screw cuts installation time in half. And the Q-Box is designed with extra volume to make it easy for large hands to maneuver.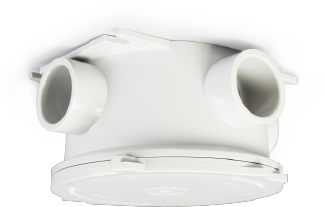 ---
FAST AND FLEXIBLE
19.5 cubic inch volume means more space to maneuver
Four ¾" Non Metallic Conduit Hubs; two left open for long runs
Pre-installed, captive gasket saves time
No screws needed for the fastest assembly
ETL Listed, Certified to UL 5A, CAN/CSA 22.2 #62.1
Suitable for wet locations in US and Canada
FicientLock™ technology makes installation fast and simple
---
AT THE CENTER OF EFFICIENCY
The Q-Box is designed for quick and easy installation. Use FicientLock technology to simply twist and lock the cover onto the box and it's UL Certified for wet locations. The embedded gasket eliminates the need for additional screws, making the Q-Box 4X faster to install than the competition.
SPEC SHEET
INSTRUCTION MANUAL
ENVIRONMENTAL AND SAFETY RATINGS
Suitable for wet locations.
ETL Listed, Certificed to UL 5A, CAN/CSA 22.2 #62.1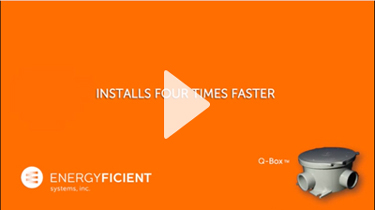 Product Information
Non-metallic, high performance polycarbonate and high temp rated gasket
2 1/8" Height
4 1/2" diameter
19.5 cubic inches
Accepts 3/4" O.D.
PVC, non-metallic conduit
Ceiling, wall, or surface mount. Ships with a pre-installed 9-15 x 2" shield coated Hex screw with washer or use outboard mounting locations
Part Numbers (sold separately)
QH1000S, QH1000
Pre-installed screw included
---