Back to News
JD Byrider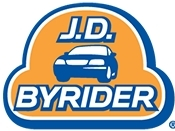 For a car dealership, lighting is critical for attracting customers to the lot and getting them in a vehicle they can drive home. JD Byrider understood this importance and asked the team at Energyficient to engineer a LED solution that would dramatically transform the nighttime appearance of four of their Iowa dealership locations.
The front row at each location is a critical selling area that required strategic thought during the design phase. Energyficient engineers had to identify a way to increase the visual impact of the front row while providing sustainable annual savings with controlled light trespass. Using Hubbell-Beacon's Viper series fixtures we provided outstanding performance at an exceptional value. Delivering industry leading performance, this fixture maximized efficiency with bright, uniform distribution and minimal light trespass.
While new fixture replacements significantly increased energy and maintenance savings, untapped savings still remained without proper controls. Fixtures were integrated with Hubbell's SiteSync lighting control. SiteSync is a simple, reliable, and affordable wireless control that immediately reduces power consumption and minimizes maintenance costs while delivering the right amount of light. With simple and easy field commissioning, we programmed fixtures to dim down during off-hours to optimize annual savings.